With the objective of working from home to help with social distancing, being stuck in the house with a cupboard full of food can lead to an unintended side effect - stress and emotional eating. Working from home has it's own unique set of challenges and distractions, all of which aren't designed to help stick to a healthy snack routine.
"What are the best snacks for my delivered snack box?"
Now more than ever, delivering healthy snacks to people's homes can help with productivity, concentration and overall a better sense of well being. Identifying those foods, in particular snacks however, we know, isn't easy. That's why we've shed some light on the best foods, and importantly the reason why you should introduce these snacks in to a delivered snack box....
Why Are We Snacking More at Home?
As the UK adapts to life in coronavirus shutdown, people across the country are being forced to establish new daily routines. Health and diet are proving particularly difficult to manage as our regular exercise regimes are disrupted and millions of us are working from home with constant access to our kitchens - and the treats within. Thousands of workers have taken to social media to reveal they are snacking more than ever and 'grazing' through the day now that the structure of the work day has been thrown into disarray.
Between the stress around uncertainty, working from home, and reduced social interaction, emotional eating has become apparent for most people. Emotional eating occurs when food is used to suppress negative emotions such as isolation, anger, boredom, or stress. Often comfort or emotional eating ignore feelings of physical hunger that come from quite simply an empty stomach. The most common foods craved are usually ultra-processed, high fat snacks such as biscuits, crisps, chocolate, and ice cream. These foods are scientifically engineered to quickly target the pleasure receptors in our brains. But focusing on food as a pillar of energy and health and not as a crutch for emotions, is a good idea.
The lockdown diet is a polite way of describing the panicked, disordered, often gluttonous disordered eating patterns adopted by so many recently. Hands up, who's guilty? If people can't go out the house and the temptation for unhealthy binge snacking is great, what are the solutions for consumers?
Healthy Snack Ideas for a Delivered Snack Box
Eating too much in one sitting or taking in too many calories throughout the day are common habits that can be hard to break. Stress and uncertainty during the coronavirus pandemic might bring our worst eating habits to the surface. But there are ways you can help consumers maintain a balanced diet at home. Whether people are resolving to supplement their home mini workout routines with protein, wanting to eat less meat with more plant based snacks, or just looking for some inspiration or to cut out the biscuits, there are a host of healthy foods ideas to help you curate the perfect subscription box. Here we suggest the ingredients, along with the best snacks that tap in to these healthy ideas:
chickpeas...
we recommend Brave
Roasted Chickpeas are a snack that's high in fibre, a great source of protein and contain several key minerals and vitamins. Sounding perfect already? A half cup of chickpeas contains 5 gram of fibre and up to 10 gram of plant based proteins. What's more, chickpeas contain most of the amino acids the body needs. Super healthy, full of the good stuff and more on-trend than you might imagne; think of chickpeas like hummus but crunchy. That said, a humble chickpea does need some loving to become the perfect moreish snack.
Brave are makers of delicious roasted chickpeas and peas. A small snack brand with a big impact. Each pack contains a healthy dose of protein, fibre, low calories and the entire range is suitable for Vegans, both sweet and savoury options. Packed with protein and full of fibre, these snacks certainly pack a punch! All that for just 130 calories! Why eat something you can't pronounce?
Sourced and produced in the UK, Brave has a local supply chain, with all peas in the range harvested, roasted and packed within three hours of its London office. The plant-based range is available in different flavours and formats - both sweet and savoury. These roasted peas form a perfectly-balanced snack as they have more protein than cashews and fewer calories and less fat than popcorn. Brave have that craft appeal, using only natural ingredients to create our bold and vibrant flavours. Gram for gram, these pulses are one of the most sustainable sources of protein on the planet.
popcorn...
we recommend proper corn
Think of the humble popcorn in these terms - it's the better side of indulgent snacking. Popcorn is a healthier whole grain snack that has fibre and is low in calories. The not so new ready to eat healthy snack, popcorn has crept its way up to crisps to become of the most loved savoury and sweet on the go snacks.
The insanely popular PROPERCORN brand, has become a true independent British success story with a reported 40% year-on-year growth last year. Now the UKs best selling premium popcorn brand, Every pack of PROPERCORN is made using the best quality butterfly corn which gives it a distinctively light and crunchy texture. It's also a brilliant source of wholegrain fibre. Proud to make their delicious popcorn on British soil, every recipe is developed by the team in London, with each bag carefully popped and packed in the Midlands. Taste always comes first, but every recipe still comes in at under 136 kcals per serving, is gluten-free and vegetarian. Just because it's lighter, it shouldn't taste of less.
You could also give people a bit of fun with the new Microwave Popcorn that's available in 3 classic flavours: Sweet, Salted and Cinnamon. Packed full of nostalgia, you've got all the ingredients you need to make delicious, fresh popcorn at home.
REFINED SUGAR FREE CHOCOLATE...
we recommend Prodigy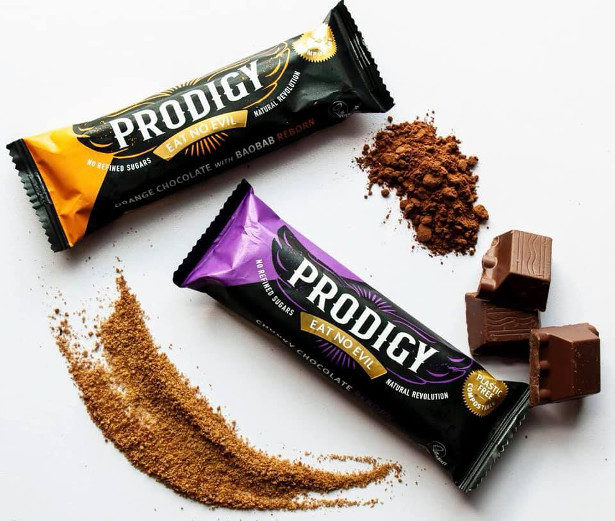 In the last decade, intense focus has been placed on sugar and its detrimental health effects. Refined sugar in particular has come under extra scrutiny with its links to obesity, type 2 diabetes, and heart disease. Yet, it's found in a variety of foods, making it particularly challenging to avoid. Moreover, you may wonder how refined sugars compare to natural ones, and whether they have similar health effects. Sugar intake can be reduced in many ways, but finding a chocolate bar without refined sugars that actually tastes good, can be tougher than it seems.
The Prodigy bars are chocolate reborn. Think of your favourite chocolate bars reinvented to be better for you and better for the planet. Less than half the sugar of mainstream chocolate. In this range there's two 'better for you' chunky chocolate bars - think chunky like a Yorkie but nutty like cashew butter. This chocolate is a satisfying, wholesome-tasting – afternoon snack but better for you and with no palm oil!
Brand new for 2020 is the 'Cahoots range' - essentially the UK's favourite traditional chocolate bars but without the refined sugars and only ingredients found in nature. Deliciously smooth, these tasty Peanut and Caramel Cahoots Bar and the Coconut Cahoots Bars are a winner. Vegan, less than half the sugar of mainstream chocolate bars and wrapped in plastic-free, compostable packaging, meaning these bars tick all the right boxes for today's healthy snack boxes.
nuts...
we recommend MR FILBERT'S
Nuts boast several health benefits that our good for our bodies. Dried nuts for example are perfect for boosting metabolism. Packed with protein, fibre and essential fats, nuts are one of this season's best buys. A golf ball-sized portion (about 30g) of unsalted nuts makes a vitality-boosting snack and, unlike most other options, contributes a mix of valuable vitamins and minerals. All nuts have different nutrition credentials and will offer various health benefits.
The gourmet nut & seed recipes from Mr Filbert's are hand crafted using a unique process which involves roasting them in their own natural oils for a healthier and tastier alternative to traditionally, bland and boring nuts. Inspired by the fusion foods Filbert's have sampled across many markets and bars around the world, to offer a range of hot air roasted nuts and seeds that stand out on people's taste buds.
From Peruvian Pink Peppercorn Cashews & Peanuts and Moroccan Spiced Almonds, to tasty pocket-sized Chilli & Fennel Mixed Nuts there's a taste of both the exotic and familiar all in one. Many of these recipes are vegan, gluten free, dairy free and free from artificial additives and preservatives, opening them to a more inclusive audience and getting only what nature intended.
OATS...
we recommend STOATS
Oats contain a plethora of health benefits - these include supporting weight loss, lower blood sugar levels and a reduced risk of heart disease. They're a gluten-free whole grain and a great source of important vitamins, minerals, fibre and antioxidants. In fact there's a whole host of health benefits we could list. Oats make for an ideal breakfast option for the health conscious and time-short. But as the days warm, not everyone will want an oat filled porridge pot. Step forward something a little different in the form of Stoats Porridge BARS.....
Beginning life at the kitchen table, Stoats oat bars have transformed the humble oat from a basic ingredient to the base of a hearty and healthy slow-release energy bar that is beloved by consumers of all ages. Made from all-natural ingredients these pots and bars are the definition of healthy 'on the go' snack, and the goodness doesn't end at the oaty benefits. The team behind the Stoats bars are very conscious of their environmental responsibilities, it's the reason you'll find no palm oil in their products, the reason that their bakery, which still hand makes every bar they sell, recycles 94% of its waste, and the reason they now use compostable 'NatureFlex' in their packaging.
Putting the Experience into Your Snack Box
From colourful packaging to blind taste tests results, there is a wealth of evidence to suggest that, when picking a sumptuous snack, it's far from just about the taste – every sense plays a part when it comes to consumers deciding just how much they like a particular product. It's not enough for brands to simply be tasty or healthy, those capable of creating a real buzz need to be able to provide a satisfying experience from the first glance on social media to the final bite. While many popular brands rely on a slew of advertising, brand recognition and repetition, these new inventive brands we suggested above are creating an experiential experience with their brand.
No matter where consumers encounter these brands – be it an Instagram feed, their office kitchen, or their local snack aisle shelves, there is no denying they demand attention. Good job too, with most people forming an opinion in an astonishing 50 milliseconds, there is no room for complacency when it coming to stimulating the sense of sight.
You would think, when it comes to the touch of a food there's nothing new to learn, after all we all know how a crisp, or a bar, or a piece of fruit, feels between our fingers - no matter what the flavour there are a few things which remain consistent. Nowadays, however, savvy brands are even reinventing what we know about the feel of foods, whether it's the softness of oat Stoats bars directly contrasting the expected tough texture the traditional breakfast bar is known for, or the rising popularity of vegan chocolate such as the Prodigy, which combine all the benefits of well-being and eco-credentials in a chocolate bar, in an appealing and convenient grab and go snack.
Incredible as it seems, 80% of our statistics regarding flavour perception are governed by smell, it's one of the reasons retailers work so hard to incorporate recognised and much loved flavours into the likes of PROPERCORN and Mr Filbert's. Finally, after customers have been on a sensory journey, from hearing about the hottest new product, to seeing it displayed, touching and feeling the excitement of something new, do we get to how the products taste. It may be the final sense but there's little doubting it's the most important – no product will survive long if it doesn't deliver a flavoursome hit to delight the palette. We always recommend trying samples of our delicious snacks first. By appealing to all five senses, you can make your snack box an experience to distinguish yourself in the market and offer their customers a snacking experience that appeals across the board - elevating snacking from simply a quick refuel during the day to a fully immersive experience to be savoured.
Sourcing Your Snacks With Epicurium
To discover more about experiential snacking retailers, take a look at our range of healthy snack products. This month we've launched our latest brochure packed full of the very hottest in new and tasty snacks perfect for a subscription snack box. If you'd like to receive a copy then please get in touch with us here.
It's time you should consider introducing more protein snacks, vegan sweets, and alternative savoury snacks. It's not likely retailers will be able to continue to build success if they haven't got anything new to offer customers. Working with Epicurium offers you exact that. With a quick turnaround, no minimum order and free delivery on any order over £80, our team here at Epicurium can have you tapping into the newest free from and healthier snacks, from the UK and further afield, in no time.
To discover more about the fun world of healthier snacking
browse our website
or alternatively get in touch with a member of our team to discuss how to integrate new ranges into your snack and drink mix.
Stay safe everyone - Team Epicurium